Masonry Steps in North Arlington, New Jersey
Need steps built in North Arlington Masonry steps are the most durable steps you can build. Agolli Construction LLC has been masonry steps for North Arlington New Jersey homes and businesses for over 2 years. The wide selection of step and stoop materials available from Agolli Construction LLC provides versatility in terms of looks and pricing options. Call Agolli Construction LLC at (973) 218-5038 for a free estimate to build masonry stairs that will match your building's exterior AND your budget!
North Arlington Step Construction Options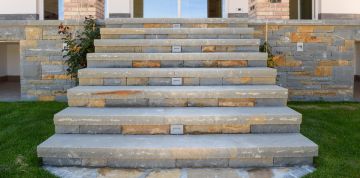 There is a wide selection of materials that the masonry experts at Agolli Construction LLC can utilize to construct beautiful entry steps and stoops. You may choose from bricks, stones, and concrete to create a welcoming entrance to your home. Customers frequently choose to use a combination of materials to create an appealing look. For example, the risers might be made from natural stone or brick, while the top may be poured concrete. The contrasting colors and textures add an interesting focal point and increase your home's curb appeal. When you call (973) 218-5038 for a free North Arlington masonry step estimate, you will receive an in-home consultation with our mason, who will be happy to provide ideas and samples of materials.
Our North Arlington Masonry Step Construction Process
Agolli Construction LLC's masonry crew uses durable materials and follows best practices to construct masonry steps in North Arlington that are as strong as they are attractive. We strictly adhere to best practices as we follow the process of building steps. All work begins with a solid foundation. The area is cleared down to the foundation dirt and is leveled. Next the foundation layer of material is laid. Tight cross joints are created that don't allow for gaps or openings to build the sturdiest structure available. Each additional stone or brick is matched for size and color for a consistent look. Once the steps are built, the top platform is laid, usually with poured concrete. Agolli Construction LLC's North Arlington masons strive to create entrance steps that are durable and attractive. Our goal is to exceed your every expectation. Call (973) 218-5038 today for a free masonry step estimate today!
North Arlington Front Step Repair
Are your entrance steps in North Arlington crumbling? If your entry is posing a hazard to family and guests, it's time to call a mason to repair them or build new steps. Often, the mortar becomes damaged from rain, sun and heat, causing bricks or stones to become loose. If water is allowed to enter, further damage ensues. Agolli Construction LLC has been repairing steps in North Arlington since 2018. Our masons will provide a free estimate and will repair your steps quickly and at a fair price. Call today for a free estimate!
---
Call for FREE Masonry Steps Quote
---
WHAT CUSTOMERS ARE SAYING:
5★★★★★ - "Highly recommend Agolli Masonry! My front path and steps look great and he took the time to salvage the brick to reuse!"

Lisa in Verona, NJ

2018-10-15

5★★★★★ - "Eraldi and his team did a great job. They accomodated all my requests and even provided detailed information of what they were doing at each step. The project was done in half of the time initially scheduled. Fast, professional, and clean are the best words to describe their service. I will be contacting them for future projects. Highly recommended."

Jose in East Rutherford, NJ

2020-09-22

5★★★★★ - "We hired Agolli Construction to redo the front steps on our home. They were very helpful in providing us with ideas, and finished everything on time. We were able to get an estimate within a day after the appraisal and had the stairs done within the week. I highly recommend these guys."

Anthony B. in Califon, NJ

2020-08-24

5★★★★★ - "They did a paver patio and it came out great!! They were very professional, I would definitely hire them again."

Anonymous

2019-06-10

5★★★★★ - "They are pleasant, friendly, did a good job"

Merita J., Cement and Concrete in Garfield, NJ

2018-06-29

5★★★★★ - "These guys take their time doing the job and not rushing it. Pavers look great."

Sammy V, Pavers in Belleville, NJ

2018-06-29
---
Call for FREE Masonry Steps Quote
---